MiCycle is a cycling route tracking application. While cycling, application provides vital statistics, like Distance, Speed, Average / Maximum speed, Calories burned, optional Map with the passed track. Application may display data in metric (meters / kg) or imperial (miles / lb) units. Location tracking works in a background – so if device is in a pocket in locked mode, location still being tracked. If in pocket – app will use voice feedback to inform rider on stats. Charts provide ability for interactive analysis. User may post start and finish events to social networks, like Twitter, Facebook, Strava or share via email and iMessage.
Main differentiator from other Cycling apps is – this one is SIMPLE and JUST WORKS. No funny and complex interfaces, pages, controls, overloaded screens… Just essentials. For those who need more – there are Premium Features, available via In-App purchase.
Optional features include History (user will see all previous rides and may go into details of each or remove some if not valuable anymore); Auto-Pause feature that allow user to exclude unwanted stops (traffic light, roads, etc) from stats calculation (average speed, duration) – app will automatically pause ride when speed drops to 0 and automatically resume it when location starts changing; Pothole Tracking feature allow user to record bad spots on pavement and be notified that they are near when ride the same route next time via push notification (list of recorded potholes can be edited).
Application attempts to save as much battery as possible by tacking location only when ride actually started and haven't yet ended. Location updates are also happening with very reasonable pace while riding – e.g. every 5 m / 15 ft.
We hope that you will find MiCycle app useful!
Feature Description
Main Interface
MiCycle can work "in a pocket" (e.g. silently register your ride and, if using headphones, – periodically telling you the ride statistics via voice feedback) or it can work "on display" – e.g. mounted on a handlebar and displaying the data. Main screen below give you an idea of what can be displayed there.
Main interface (no map)
Main interface (with map)
Voice Feedback
During the ride user usually keep iPhone in a pocket. Voice Feedback help to keep user informed on vital ride statistics, such as speed, distance, time and calories burned. User may select which statistics to listen and how often app will tell them (based on time or distance passed).
Premium Features access
MiCycle app is "freemium" – e.g. application that you can use for free with basic functionality, but if you want more – you can always purchase one of available subscriptions. This will give you access to some or all premium features. Subscriptions are auto-renewable for your convenience and can be renewed on monthly or annual basis. In-app store provides access to available subscriptions. They have three different functionality levels (in case you need only specific features and not all):
History Only – gives you ability to access your rides history and ability to export them
History, Routes and Segment – is a step up over History Only and includes ability to store and ride routes as well as divide your rides into segments with post-ride analytics
Everything – you get access to all functionality
Premium Features in-app store
Apple Watch Support
Happy owners of Apple Watch now can use it together with the phone version of the MiCycle Pro application. Watch will display vital statistics of a ride, such as passed distance, speed, time, heart rate and grade. It will also show the elevation profile of a passed distance. User may control app by using buttons: to pause the ride, resume it or finish it. New potholes may also be reported from the watch screen. Watch heart rate sensor can be used to communicate data to iPhone to store along the ride.
Ride Started
Homescreen
MiCycle as Complication
Pothole Tracking
Ditches and Potholes are very annoying problems on pavement – especially for road bikes with thin tires. They can even cause serious bicycle equipment and rider joints problems. During the ride, if rider noticed a pothole, he/she may click on "New Pothole" button on screen to record its location. New Pothole may also be reported when phone is in a pocket – by pressing a headphones remote controller button three times (middle / main button on controller). Collected potholes can be browsed from Settings interface. They also can be edited – to see it in context of map/satellite image or adjust its severity.
When ride next time on the same route, you can enable pothole notification setting and application will let rider know when pothole is near (in 50 yards radius). This way rider can be alerted in time and watch to bypass such a pothole.
Headphones Controller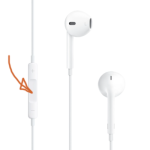 The use of headphones' (not just Apple's) controller may be very useful during the ride. Besides volume controls, there is usually a third button (middle one if there are three, or just one). In MiCycle app that button has following functions:
One press will pause song (or play if was paused before)
Two presses will skip to a next song
Three presses will record the Pothole (if feature is available)
Auto-pause
Application tracks an average speed during the ride. This is calculated as passed distance divided by time it took to pass it. When ride crosses roads with traffic and has to wait to pass such traffic before continue to ride – it affects the average speed. In order to minimize this affection, application can be set to auto-pause when location stopped changing (e.g. rider stopped at traffic or traffic light) and will auto-resume when location started changing again (e.g. rider started moving again).
History
All committed rides automatically recorded on the device in a History. Rider may observe previous rides, grouped by date, open them and see all events, such as Start, Finish, Pauses, Reported Potholes. If certain history records are not needed anymore – user can delete them from history. Particular ride in a history can be published on Facebook or Twitter. It also can be shared with others via iMessage or Email. Sharing includes the map view of entire ride as well as statistical data. When shared via Email application will also include the data file that can be imported into MiCycle or MiCycle Pro application on another device. Data file includes ride data as well as information about potholes and bicycles.
Main Menu
Rides History List
Rides History Map
Ride Details w/Profile
Ride Weather
Detailed ride map with events
Charts
Application can present History as a bar chart. To see it simply turn phone sideways being on History list. Bars indicate average speed and passed distance for each ride. User may scroll chart left or right if there are too many rides to fit into one screen.
History Bar-chart
Being on details interface and turn phone sideway will open a chart for particular ride. Timescale will present Speed, Altitude and Heart Rate (if recorded) during the whole ride. User may double-tap chart to maximize or minimize. In maximized mode taping on area between kilometer/mile markers will reveal additional stats for just that kilometer / mile. In maximized mode user will also see details at every point at the route, such as passed distance, time, speed, angle, heart rate and elevation. Ride point will also be shown in the small map at the left or right corner of a screen.
Overview chart
Detailed interactive chart
Power Curves
If you use a power meter, you can actually see you strong and weak points via Power Curve chart. Power Curve can be displayed for one particular ride or as a collection of curves for other rides – to make a comparison for one particular.
Power Curve (single)
Power Curve (comparison)
Overall Statistics and Hall of Fame
Recently added Statistics interface reflect your ride's summary for entire time, last and current month.
overall statistics
Hall of Fame
Routes
Routes allow rider to follow an existing path of own or someone's previous ride. Routes can be saved from existing previous rides in history or can be imported via GPX file (de-facto standard file format for GPS-enabled tracking applications). Routes are shown as a list or on a map. User may select desired place for route map marker and change it at any time. When re-ride the route, user may elect to ride it from Start to Finish or from Finish to Start (e.g. in opposite direction). When route path is added to ride map, it will show the direction with arrow. If you are too far from the starting point – application will offer to use iPhone Map app to drive to the location.
Segments
When you are in a middle of a ride, you can mark start and end of segment. This will allow application to store this portion of a route for future analysis. Rides with segments can be exported into Routes, which will also export segments for the automation. Segments that system know can be automatically started and ended during the ride. Ride segments can be observed as a lis as well as in comparison to same spot during other rides (average speed and average power will be compared, as well as elevation profile will be shown).
When you ride and application recognized the start of segment, it will automatically start recording values. If elevation data is available, application will also show the profile – so you can better judge on your resources. Exporting ride into route includes segments. Segments will show profile as long as there is at least one Route with the same path is known to an app.
Segment with Profile
Segment with Level
Segment analysis
Segments in a Ride
Known Segments
Sensors: Heart Rate, Power Meter, Speed, Cadence
Application supports various Bluetooth and ANT+ sensors (ANT+ sensors supported via Ant+ to BT Bridge). This includes Heart Rate sensors, Power Meters, Cadence (both – Crank and Wheel) sensors. If Power Meter has supplemental cadence data – it will be used as well. Sensors may be registered for specific bicycle and will be automatically switched when you switch the bicycle in the app.
Sensors readings stored in the ride history, displayed on a main screen and visualized on charts. They also can be spoken via voice feedback. For single-sides power meters application offer a compensation slider (value can be corrected in a range between x1 and x2. For Heart Rate you may elect to allow application to tell you when your heart rate moves from one zone to another – say from Aerobic to Anaerobic.
Settings (bottom)
Sensors
Scan for Sensors
Sensor Services
Trainer Mode
When cycling season is over and cyclists need to use trainer, MiCycle app can be switched to "Trainer" mode. In this mode app ignores GPS coordinates and attach data points to Time and Distance. In order for it to function you will need at least a Speed Sensor (e.g. wheel cadence). If you have a power meter, cadence sensor and/or heart rate – it always a plus.
There are some limitations on displaying data for trainer ride.
Trainer mode ON

Rides Backup / Restore and Export / Import
To make sure that your data is safe or transfer it to new device application provides an ability to backup data into your iCloud storage. This data can be restored on same or another device as long as it is connected to the same iCloud account.
You can also send one particular ride via and message will include data files. We now include three data files: in MiCycle native format (this file can be imported on another device with MiCycle or MiCycle Pro application), GPX and TCX (those can be imported into popular online services like Strava). GPX format contains basic track data while TCX includes all data (position, heart rate, power, cadence, etc.).
Backup and Restore
Backup in progress
Backup complete
Manage bicycles
MiCycle allow to keep one (free version) or more bicycles on file. One that is marked as "current" will be attached to ride at the finish event. Each bicycle has various numeric parameters as well as attached sensors. Among those there is an odometer and application will automatically update current's bike odometer at the finish.
For each bicycle you can track events, such as chain replacement, tire replacement or similar. Each event defines date and odometer at a time of event. Both populated automatically, but can be overwritten.
Create video from the ride
Once ride is complete and recored into a history, it can be used to generate a video that will show a map and animated route from start to finish, including pauses and important metrics, such as top speed, top power and highest altitude. Here is an example:
NOTE! If you receive an error "Recording interrupted by multitasking and content resizing" – you will need to perform a device reset (one that only resets settings, but not the media or content). You can do it via: Settings > General > Reset > Reset All Settings. You will lose PIN settings, Apple Pay settings, screen backgrounds, etc., but not the media or content!